Cogentech offers genetic testing for the assessment of cancer risk using two propriety NGS Panels, OncoPan® for the most common adult hereditary cancer syndromes and OncoPed for pediatric and rare hereditary cancer syndromes. OncoPan® assesses not only the presence of pathogenic variants in 42 cancer predisposing genes but also 313 SNP for the calculation of the polygenic risk score for Breast and ovarian cancer.
In addition, mutation testing in relatives to identify potential mutation carriers is performed using Sanger Sequencing and MLPA analysis.
Testing is generally performed on blood samples but can also be done on buccal smears.
Cogentech's propriety OncoPan® besides assessing cancer risk, is also designed to help to direct therapy with PARP inhibitors:
BRCA1/2 somatic testing for therapy with PARP inhibitors in breast, ovarian, prostate and pancreas cancer
As OncoHRD for therapy with PARP inhibitors in ovarian cancer
Mutation analysis of the most frequently mutated cancer genes
Testing is generally performed on FFPE tumor samples.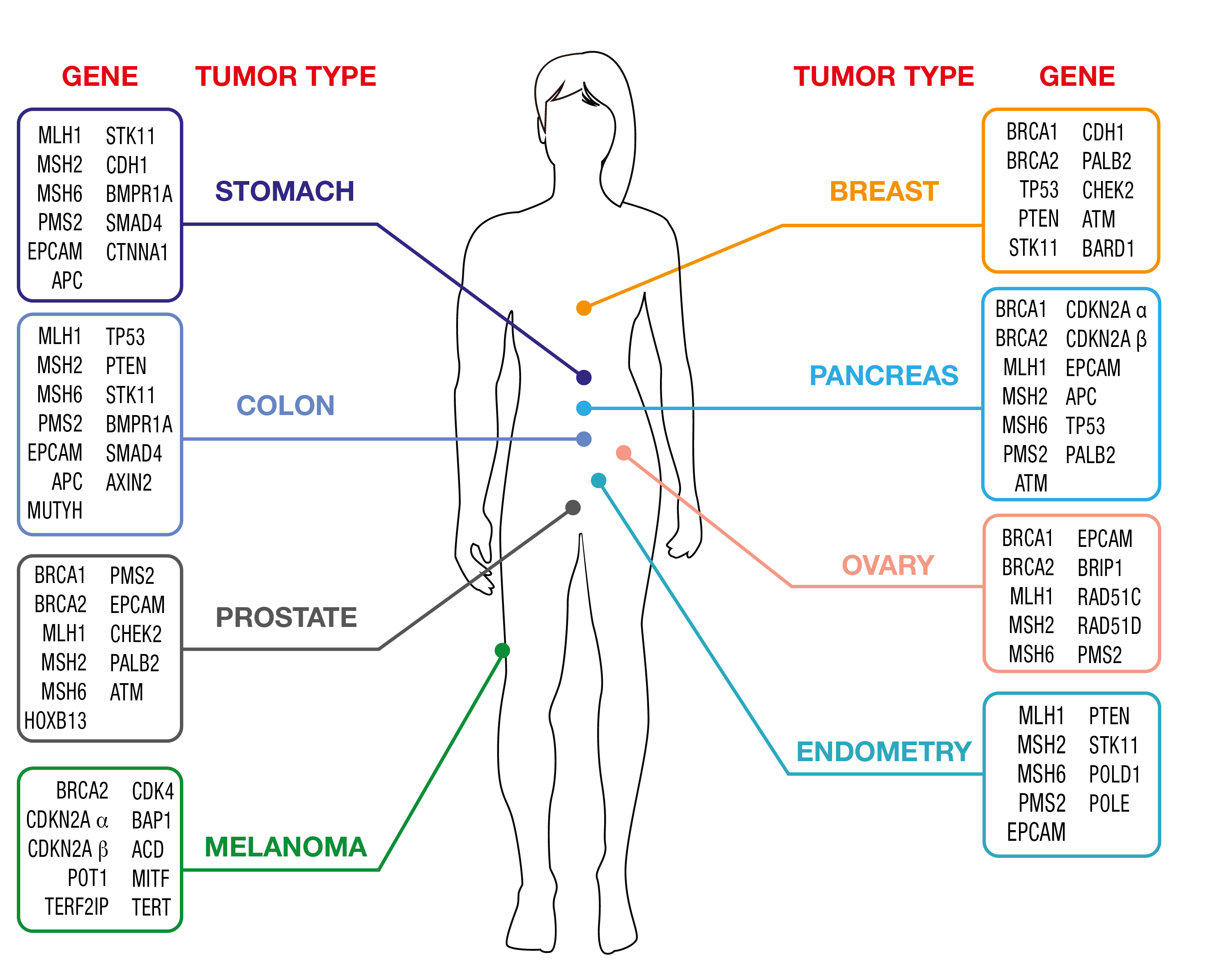 Cancer diagnostics is a fast-paced field and hereditary tumors are not an exception. OncoPan® responds to fast changing needs being an innovative and modular NGS panel that covers 52 genes and an additional 313 SNP for the calculation of a Polygenic Risk Score (PRS). Clinicians can request restricted panels for genetic testing that can be integrated by the analysis of further genes included in OncoPan® if the initial analysis did not provide a diagnostic resolution. This approach reduces costs and diagnosis time, while improving detection rates. In addition, the PRS score will be made available and might be used by the Clinician to optimize the determination of the cancer risk using dedicated web-based tools (www.canrisk.org).
OncoPan® is, based on the frequency that these syndromes occur in the general population, mainly used for genetic testing of Hereditary Breast and Ovarian Cancer (HBOC) and Colorectal Cancer Syndromes.
OncoPed is indicated for the analysis of genes conferring susceptibility to tumors that develop predominantly in pediatric age and for the evaluation of rare syndromic conditions that may also develop in adulthood (e.g., melanomas and renal neoplasms).
The underlying cause of most pediatric cancers is currently unknown. However, it has been estimated that genetic alterations, responsible for increased susceptibility to tumor development, are present in approximately 8% of pediatric patients and this in the absence of any significant family history.
OncoPed provides analysis for genes involved in the most aggressive pediatric cancers such as medulloblastoma, Wilms tumor, some rare ovarian tumors (Sertoly-Leydig and SCCOTH), retinoblastoma, uveal melanoma/melanoma, renal tumors, some lymphomas, rhabdoid tumors as well as tumors developing in Li Fraumeni, Cowden, Gorlin, DICER1 and Carney syndromes. Some of the genes present in Oncopan® are also present in OncoPed, either because the Syndrome involved presents itself both in young as well as in adult or because of a heterogenous presentation of the cancer phenotype. Syndromes for which testing is unique with OncoPed are listed below.
Depending on the kind of mutation identified in the proband, testing of relatives will either be carried out using Sanger Sequencing to verify the presence of a pathogenic or likely pathogenic variant and small deletions/duplication or with MLPA to identify big deletions or amplifications of a gene. MS-MLPA can also be used to address the methylation status of a gene.
Cogentech's propriety OncoPan®, besides assessing cancer risk, is also designed to help to direct therapy:
Somatic BRCA1/2 testing for therapy with PARP inhibitors in breast, ovarian, prostate and pancreas cancer
As OncoHRD for therapy with PARP inhibitors in ovarian cancer (according to European guidelines)
Mutation analysis of the most frequently mutated cancer genes