Technical details
What is real time PCR?
Real time PCR (qPCR) is a robust and highly sensitive technique used to simultaneously quantify and identify specific nucleotide sequences (DNA, mRNA and miRNA) in cells or tissues. Fluorescent probes (Taqman or Universal Probe) are used to quantify the PCR product at each amplification step by detecting the emitted fluorescence in real time.
RT-PCR specific questions
Using RT-qPCR, absolute quantification can be obtained only after establishing a standard curve using a template (e.g. plasmid DNA) of known amount. Used to determine bacterial/viral load or exact copy number/cell.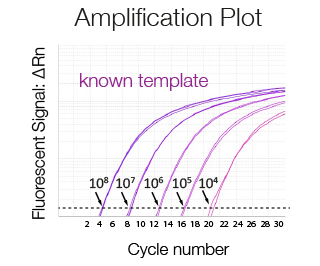 Amplification plot of a serially diluted sample of known concentration used to generate a standard curve. The higher the concentration of the template the lower the Ct.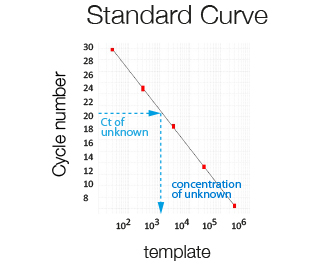 The template number in a sample of unknown concentration is extrapolated from its Ct using a standard curve.
Relative quantification compares the expression relative to a housekeeping gene and/or to another reference sample and is used to analyze gene expression for example over time or after drug treatment.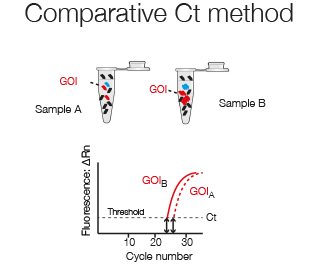 The comparitive Ct method compares the expression levels between two samples, for example Gene of Interest (GOI) in sample A versus sample B.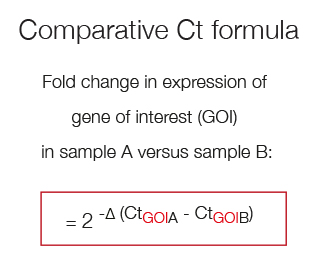 The fold change in expression of GOI in sample A versus sample B can be described by the log2 - fold difference in their Ct values.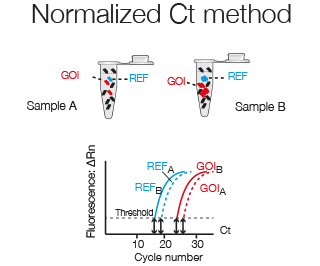 For normalization to a Reference gene, whose expression theoretically is identical in the two samples and thus corrects for total RNA levels, the Ct of the Reference gene (CtRef) is subtracted from the Ct of the Gene of Interest (CtGOI).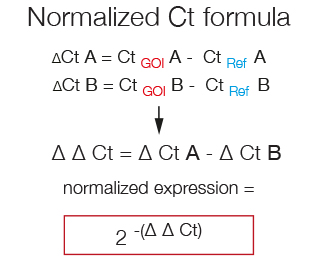 The formula used to calculate the fold-change in the expression of a Gene of Interest that takes into account its normalization to a Reference gene is called ΔΔCt. First the CtRef is substracted from the CtGOI in both samples and then the resulting ΔCt of sample B is substracted from the ΔCt of sample A.
In RT-PCR the PCR reaction is monitored in real-time at each amplification step. Analysis is performed when the amplification curve is linear (link to amplification plot and Ct). Digital PCR instead is an endpoint PCR in which the read-out is yes or no.
Digital PCR is a highly sensitive method for nucleic acid detection and ideally suited for absolute quantification and rare allele detection. Digital PCR works by partitioning a sample (template + PCR reaction mix) into many individual PCR reactions. The presence (positive reaction) or absence (negative reaction) of the targt molecule in each individual PCR reaction is revealed by endpoint PCR. The count of positive and negative reactions is then used to calculate the absolute amount of target molecules in the starting sample.